Spot Light
Features in •Modern Salon • Behind the Chair • Kenra Professional
Upstyling Shot of the Year 2017 Mirella Manelli, @mirellamanelli
Kitchens: they're more than just a room in your home for storing, preparing and eating food. Turns out, they can also double as a beauty hotspot…at least it does for bestie stylists Yadira Muñoz (@jedihairmaster) and Mirella Manelli(@mirellamanelli).
This style is one you should have at the ready for your spring brides and prom-goers—it's classic and deceivingly easy!
Last year's Hair Battle winner, Kim Pham (@kimwasabi) and Kenra Educator Mirella Manelli joined Mary, Guy and Rebecca in judging the finalists' looks, and it was all streamed live to you on BTC's Facebook.
Malibu Tides <—
Click on the link for the full article!
"This is the perfect combination of a soft and diffused balayage blonde with an element of bold contrast achieved with foil placement," says Mirella.
Who says extravagant looking updos are hard to create? This "Twisted Ponytail" look by Mirella Manelli (@mirellamanelli) is a perfect idea for your client's next special occasion, and it's easy to put together!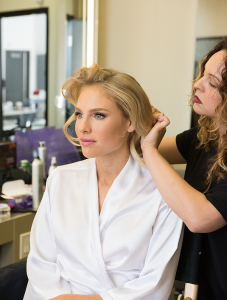 Mannequin Monday <—- Click on the link for the formula!
Mirella Manelli (@MirellaManelli), the Technical Educator in California for Kenra Professional, offered up this two beauties for #MannequinMonday and we had to know more. Here she shares the details:
"The mannequins feature our upcoming 2015 Artistic applications that will launch in spring," she says. "My formulations incorporate Kenra Creative Colors that will be available on March 1st. Creatives will feature eight vibrant colors that include: blue, red, orange, pink, magenta, teal, yellow, and violet, plus a white to create pastels."
Behind The Chair <—- Click here for the full article!
Another BTC Insta follower, Mirella Manelli, spilled on how she got the look! Complete with the color formula, step-by step and a few tricks up her sleeve, here's how she did it! She even sent us a little BTC lovin' in her new tee!