Mirella Manelli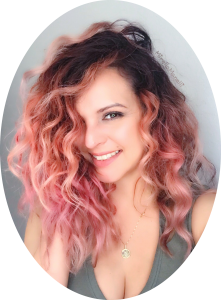 wife, mother, hairstylist, educator
I love teaching and learning.  I currently work for Kenra Professional as a Regional Education Manager for the West Coast.  I oversee Arizona, Nevada, and of course my home state California.  I built this website with the intention of sharing everything I love about color, braids, and upstyles.  I have learned over the course of my career that stylists are always seeking more education besides what I show them in a class setting.  As our world becomes more digital, I thought why not create a website providing education, inspiration, and a sprinkle of my personality.  Here you will find youtube tutorials, instagram images, and blog posts about what I do while on the road.  Follow my journey and have a sneak-peek into what it takes to be a traveling educator and how I balance it all being a wife and mother of two!
Some facts about me:
When did you know you wanted to be a hairstylist?
I totally fell into this career by accident.  I was a tomboy.  I loved sports and hated skirts.  When I was in 10th grade, my friends all wanted to sign up for a cosmetology after school program.  It would allow us to leave school early, do hair all day, and hang out.  I convinced my parents that it would be a great elective and idea.  After a few months of cosmetology, all my friends dropped out because they hated washing other people's hair.  I, on the other hand, fell in love with color.  Science and math have always been strong subjects for me in school.  So when I took color theory in cosmetology school, something clicked!  I loved it so much, I was able to be licensed shortly after graduating high school.  I continued into college but there was strong passion for hair and wanting to learn everything about it.  So I followed my heart and here I am years later.
What was your first job after being licensed?
Gosh!  This barber shop in Pico Rivera, CA.  It was super close to my grandmother's house, so I would walk to work.  I chose a barber shop because I was deathly afraid of men's cuts and wanted to conquer my fear.  I charged $7 and learned how to do a clean fade in a few months.  I'm not sure if I'm skilled to do that now.  I may need to get in some practice.  But you never forget how to ride a bike, right?
Did you always love doing upstyles?
Absolutely not.  Ha!  I would break out in hives if someone gave me an updo in the salon.  Well not really, but I would definitely panic because I had no confidence to create one.  However, I took several classes and worked behind the scenes with a session stylist.  He taught me how to rouche hair for an editorial shoot.  I was in awe of how easy and beautiful this technique was.  I convinced all my updo clients to get rouched.  I built an entire clientele on rouching.  I have since brought this technique to Kenra Professional and it has become a foundation element for our upstyling classes.
Did you always want to be an educator?
Yes!  That was my goal ever since I knew for certain cosmetology was my passion.
What is your favorite food?
Anything in a taco with some chulula.  Egg tacos, veggie tacos, potato tacos, fish tacos.  Do I need to go on?
Do you have any pets?
I have 2.  A sweet bichon named Mia and mean cat named Stampy.
Have you ever been out of the country?
Mexico a ton of times and thats about it.  I lived in Alaska!  Technically it is not connected to the U.S.
Favorite TV show?
I don't just have one.  American Horror Story, Orphan Black, Game of Thrones, and Walking Dead are my top favs!
• If you have a suggestion on a blog post or video, please send me a message! M •